Voting Process:
- I will make a new poll in the "Ride of the Month" forum where all registered members with 50+ posts will be allowed to vote.
- The poll will be left open until the 29th/30th(depending on the month) of the month. It will be closed after this date.
- In order to cast a vote you must have a minimum of 50 posts.
- The poll will include a picture and mods list of the nominee's vehicle.
- Do not post who you voted for.
- Just like the nomination process, in the voting you may NOT vote for yourself.
- Campaigning is NOT allowed anywhere on the board during the voting process, BUT you can put a link on your signature.
- The winner of ROTM will be awarded the "Ride of the Month" title for the following month along with a banner on top of the site.
Award Process:
- The Winner will also have their car appear on the EJ8Squad Banner for that Month.
- If there is only one valid nomination, then there will not be a voting stage and the nominee will be titled "Ride of the Month".
- You will also be given the sweet Orange color on your s/n to alert others of your recognition.
PLEASE NOTE:
Failure to follow these rules will result in the removal of the nominated car from the competition and there are NO exceptions. "I didn't know that" is not an acceptable excuse! That's why we made these rules. If something isn't clear, please ask an Administrator or Moderator and we would be glad to assist!
ArtyG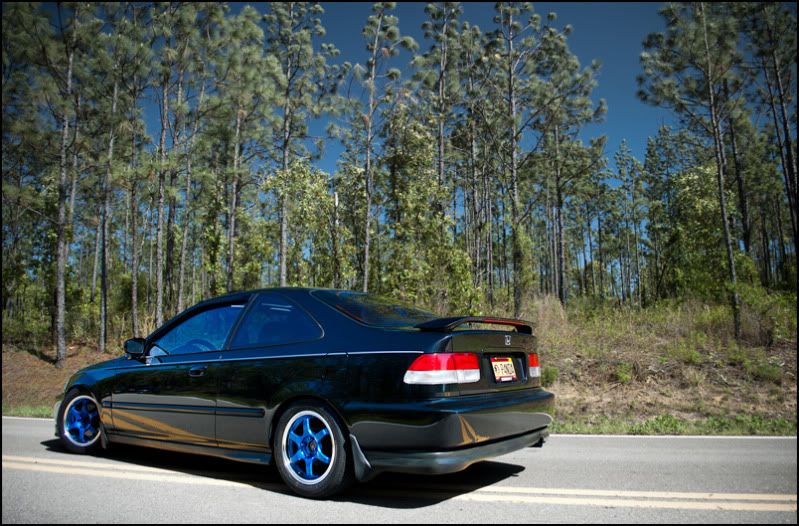 Mod List
--Exterior--
Spoon Style ABS Front Lip
Type R Style ABS Rear Lip
OEM Honda Sunroof Visor
Daily Wheels/Tires: 15x7 Konig Wheels (Custom Paint), 205/50R15 Falken Ziex
Race Wheels/Tires (AutoX): 15x7 Drag DR-21, 205/50R15 Federal 595 RS-R
--Interior--
Integra GSR Front Seats
Aftermarket Alpine Head Unit
Autometer Electrical Oil Pressure Gauge
GlowShift Voltmeter Gauge
GReddy Turbo Timer
Integra GSR Dual Bend Short Shifter
GReddy Shift Knob
--Engine--
Complete D16Y8 OEM-spec Rebuild (0.020" over/75.5mm bore)
ARP Head Studs
Walbro 255lph In-Tank Fuel Pump
B&M Adjustable Fuel Pressure Regulator
B&M Fuel Pressure Gauge
Zero1 Carbon Kevlar Intake Tube w/ Filter
R710 Full Exhaust w/ Replica N1 Muffler
Zeitronix Wideband
BFH Customs Oil Distribution Line Kit
TrackTUNED.net Chipped ECU & Tune
--Suspension--
Koni Yellow Struts
Arospeed Coilovers 350-lb. Spring Rate
ASR Rear Subframe Brace
ASR 24mm Rear Sway Bar
Blox Fixed End Links
Energy Suspension Front Sway Bar Bushings
BLOX Rear Lower Control Arms
OEM Front Sway
Ingalls Adjustable Front Upper Control Arms & Ball Joints
Ingalls SmartArm Adjustable Rear Upper Arm
Jay5
Mod List:
Under the hood:
96' B18B1 longblock
LS hydro transmission
chipped obd1 P75 ecu
NGK platinum spark plugs
NGK spark plug wires
ARP head studs
Blox V2 Intake Manifold
AEM fuel rail
no name short ram CAI w/ K&N air filter
Yonaka B-series axles
eBay 4-2-1 header
Godspeed aluminum dual core radiator
unknown clutch & OEM LS flywheel
Suspension:
Form & Function Type 1 coilovers
GSP camber front & rear control arms
DC Sports front strut bar
Exterior:
ebay fog lights
Black housing head lights
OEM sunroof visor
Autozone window visors
OEM 96-98 EJ8 spoiler
99-00 OEM taillights
OEM Civic HX wheels
Yonaka Catback exhaust
Interior:
Pioneer single din radio
Pioneer front & Rear speakers
skunk2 dual bend short shifter
Spoon shift knob
OEM EK9 shift boot
97' Integra LS front seats
DIY black headliner
Broadway mirror blue tinted
Black carpet
Peel & Seel (sound Deadener)
Travie_Vtec
1999 Honda Civic EX
Engine:
-JDM D15B block with a Y8 head
-Password:JDM Powerchamber Intake
-OEM JDM D15 Header
-3" Full Exhaust with DC Muffler
Exterior:
-Mugen Style eBay lip
-AVS Wind/Bug Deflector
-DIY Bumper Canards
-Yellow OEM Style Foglights w/ Bezels
-Stickers (lol)
-Gunmetal Headlamp Assembly's
Suspension:
-F&F Type 1 Coilovers
-EM2 Special Edition Wheels
Interior:
-DIY Young&Reckless Arm Rest
-Kenwood Headunit
-12" Kenwood Sub w/ Enclosure
Deletes:
-Rear Seats
-Cruise Control
-Air Conditioning
1996 EJ6 Sedan |
Build Thread
|
Squad Decals
|
Premium Membership
|
Squad Lanyards
CRAZY
HYPE!!!
|

HOT WHEELS