Voting Process:
- I will make a new poll in the "Ride of the Month" forum where all registered members with 50+ posts will be allowed to vote.
- The poll will be left open until the 29th/30th(depending on the month) of the month. It will be closed after this date.
- In order to cast a vote you must have a minimum of 50 posts.
- The poll will include a picture and mods list of the nominee's vehicle.
- Do not post who you voted for.
- Just like the nomination process, in the voting you may NOT vote for yourself.
- Campaigning is NOT allowed anywhere on the board during the voting process, BUT you can put a link on your signature.
- The winner of ROTM will be awarded the "Ride of the Month" title for the following month along with a banner on top of the site.
Award Process:
- The Winner will also have their car appear on the EJ8Squad Banner for that Month.
- If there is only one valid nomination, then there will not be a voting stage and the nominee will be titled "Ride of the Month".
- You will also be given the sweet Orange color on your s/n to alert others of your recognition.
PLEASE NOTE:
Failure to follow these rules will result in the removal of the nominated car from the competition and there are NO exceptions. "I didn't know that" is not an acceptable excuse! That's why we made these rules. If something isn't clear, please ask an Administrator or Moderator and we would be glad to assist!
EJDerrty8
96 EJ8
Under the Hood
-B16A SiR2 OBD1 Engine Swap, Chipped P28 ECU
-Innovative Billet Motor Mounts
-DIY Semi-Flat Black Valve Cover
-OBD2 to OBD1 Conversion Harness
-CTR Intake & Exhaust Cams
-Spoon Replica 4-2-1 Headers wrapped in Black Exhaust Wrap
-Custom Cat-back Exhaust (S2 piping w/ a Vibrant 1146 Streetpower Black Flat Oval Muffler)
-Yowai-SS Type WP Venturi Carbon Intake
-NGK Plugs and Wires
-Blackworks Aluminum Radiator
-PW:JDM Radiator Stay
-Custom wrapped Yowai-SS Aluminum Cooling Plate
-A/C & CC Removed
-DIY Engine Bay Washers
-PW:JDM Cup Washers
-WekSoS Hood Dampeners
-S2 Billet VTEC Solenoid
-S2 Black Edition VTEC Cover
Exterior:
-DIY Black Housing Headlights
-Raptor HID Kit, 35W, H4 High / Low, 8000K
-SiR Yellow Fog Lights
-99-00 Rear Bumper
-DIY Smoked 99-00 Taillights
-Big "H" Front Grille
-Mugen Replica Polyurethane Front Lip
-Hella Supertone Twin Horns
-Slick Shades Rear Window Visor
-Autozone Window Visors
-Plasti-Dipped Hood w/ Gold Metallicized Flake
-99-00 Mud Guards
-PW:JDM Red Bumper Quick Release Fasteners
Interior:
-Tenzo Type R Red Seats
-EK9 CTR Red Door Panels
-Vti/SiR Gauges with LED Lights & CF Bezel
-Tenzo Short Shift
-PW:JDM Brass Knuckle Shift Knob
-Tenzo Hand Brake Handle
-DIY Red Gator Fabric Headliner and Panels
-Grip Royal "ROYAL KNIGHT" Black Leather Steering Wheel w/ "H" Horn Button
-2nd Steering Wheel - Grip Royal "ROYAL HINO" Red Leather Steering Wheel
-Momo Hub
-Broadview Mirror
-Single Din Tray
I.C.E.:
-Alpine Headunit relocated to the bottom
-Apple Ipod
-Alpine Amp
-Alpine Components Front
-Alpine Speakers Rear
-2-10" MTX Thunder Subs
-1000w Kenwood Amp
-500 Farad Cap
Suspension:
-Koni SP3 Adj. Shocks
-GC Coilovers
-GC Extended Top Hats Front and Rear
-BC P1 LCA's
-ASR Subframe Brace
-Tanabe Sustec 20mm Rear Sway Bar
-Blox Adj. Endlinks
-BC P1 Front & Rear Camber Kits
-S2 Front STB
-PW:JDM Rear STB
-Energy Suspension Hyper Flex Master Bushing Kit
Wheels and Tires:
-15x8.5 +17 Klutch SL1 Bronze and Black wheels
-Kumho 195/45 tires
-Extended Studs +20mm
-Yonaka Gold Aluminum Lug Nuts
ohvtec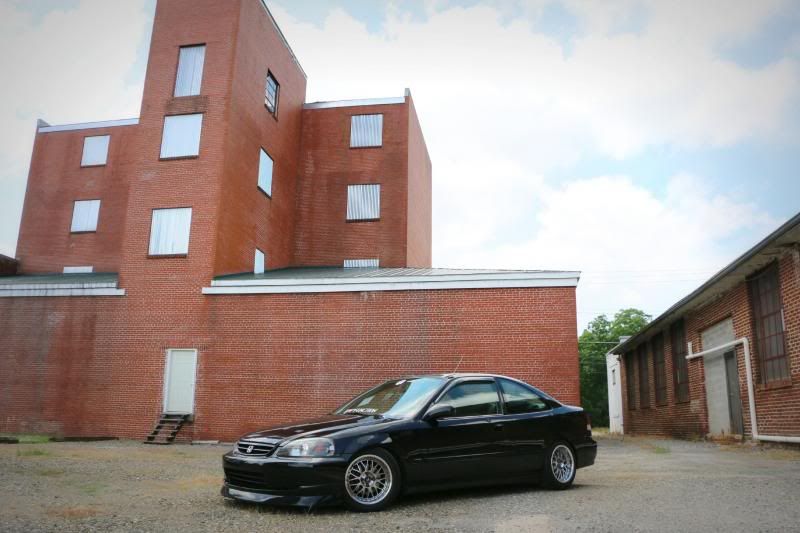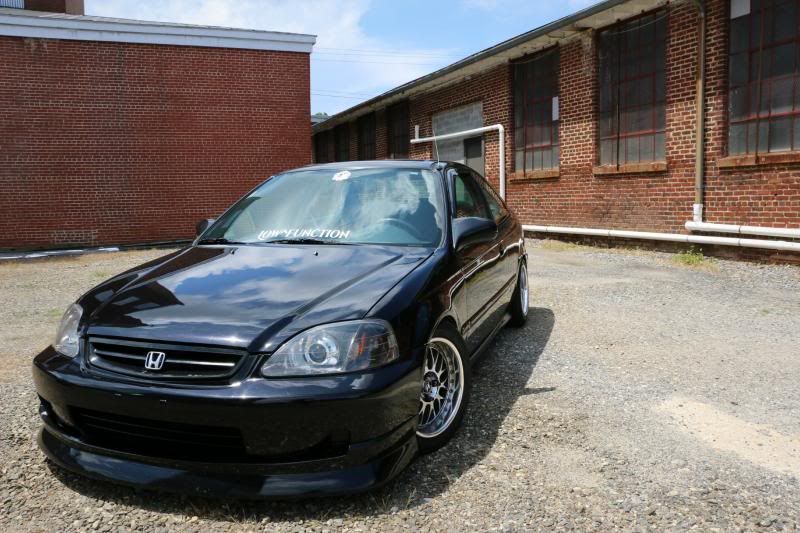 ENGINE:
D16y8
NGK spark plugs and wires
PWJDM Whale Intake
Painted Yellow Valve Cover
Yonaka Exhaust
EXTERIOR:
Chargespeed Lip
Paint matched side skirts
All tint removed
Window Visors
Debadged
CTR Replica gunmetal Headlights
Retrofitted Headlights
6K HIDS
"Get Mad ILDS" license plate frame
INTERIOR:
PWJDM red stitching shift boot
Skunk2 dual bend shifter
OEM Gsr Shift knob
Broadway mirror
Pioneer deck
LED dome lights
SUSPENSION/WHEELS:
Works VSXX - 15x7.5 +36 F, 15x8 +29 R
205/50/15 Falken Zeix 912
Function and Form Type 1 coilovers
Gsr rear sway bar
Front strut bar
Rear strut bar
Muteki purple lug nuts
Gimmezell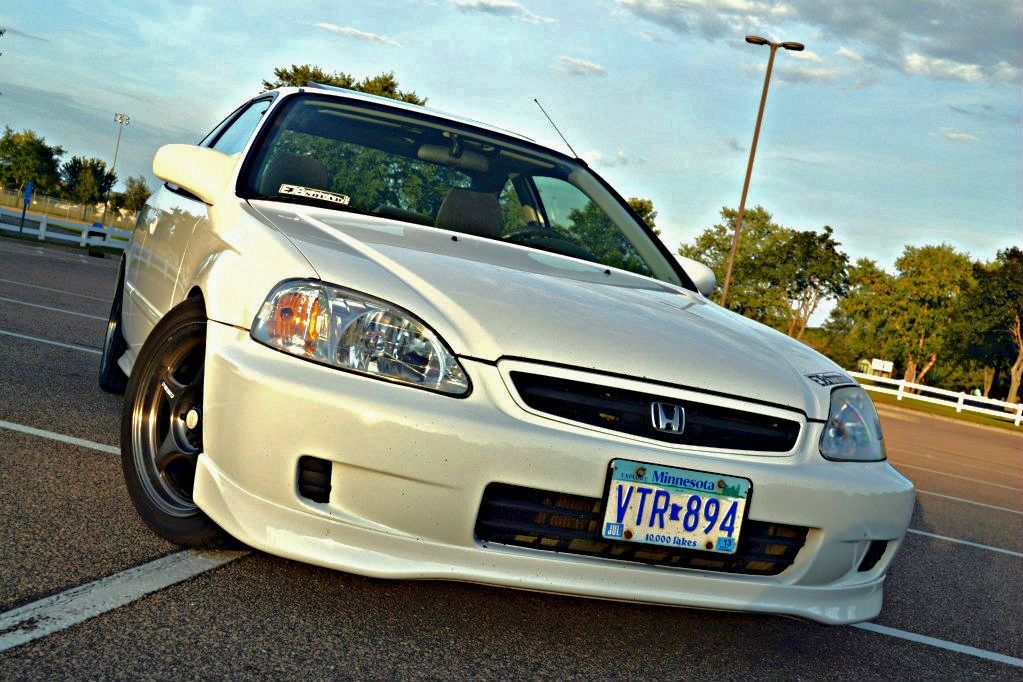 interior
Si gauge cluster
Si boot
Skunk2 dual-bend shifter
Skunk2 shift knob
DIY blue tweed door panels and armrest
suspension
Koni Yellow's
Ground control
16" 5-Zigen FN01R-C
Yokohama S.drive
performance
D16y8 125 WHP
Stage 2 Crower cam
Crower springs/retainers
Skunk2 adj cam gear
3" eBay SRI w/Blox velocity stack and filter
Dynatech 4-1 header
"turbo" muffler from local muffler shop
Carsound Highflow cat
OBD1 conversion
tuned w/Crome
1996 EJ6 Sedan |
Build Thread
|
Squad Decals
|
Premium Membership
|
Squad Lanyards
CRAZY
HYPE!!!
|

HOT WHEELS