Thread Rating:
AJHS2011's 1996 Civic Ex
Did a few more mods to it. Relocated front plate. More stitches with rasta colors. Plastidipped the hideous green wheels to black. Installed skunk2 lowering springs. Welded a high flow cat on and changed the headliner and armrest. Also got an amp to match my 10" sub and it has a nice bass to it now.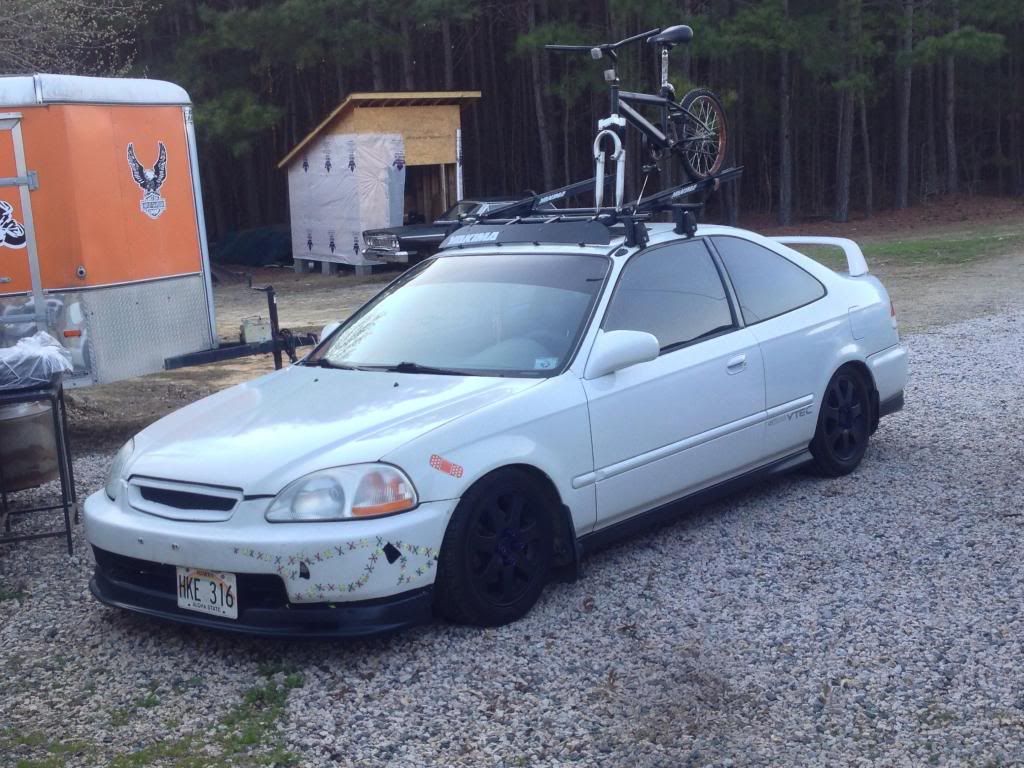 Hey guys. It's been quite a while since I've posted so why not give an update..

My civic looks nothing like before. The car is now almost 100% stock. I replaced the hellacious bouncy springs back to OEM, replaced the "cold" air intake with an OEM intake, had a good friend weld an OEM muffler on, replaced the stitched up front bumper to one that was in good shape, painted it OEM white, replaced the wheels to stock 14 inch steelies (painted black) with stock hubcaps, replaced the tires to 185/70/14 goodyear assurance for better mpg on highway, installed a rear camber kit to get the camber and toe in spec, adjusted the headlights after I had thought the adjusters were broken, flushed my heater core to fix my heat and replaced heater control valve (first time in 3 years I have ever had heat), relocated the headunit back to the top where it should be and opened up the space for the cup holders, got a new windshield replaced (which now has it's first crack and it's only 4 months old), replaced driver window regulator, lubed up both window tracks, replaced wiring harness on driver door, and removed the spoiler on the trunk.

I'm sure I'm missing a lot but that's just a few things I've done to get the car as comfortable as possible. I'm constantly getting 32-35 mpg all day long. Calculate it on every fill-up.

I drove the car to Colorado and back which was just over 3,200 miles and 48 hours of driving but I had a trip of a lifetime and a lot of memories made in this car on that trip. The car did great and I would be a complete idiot to sell it. I love my civic.

Pictures when I get time.
Users browsing this thread: 1 Guest(s)