So after seeing so many people ask for recommendations about coilovers, I decided to put together a thread about different types of brand name coilovers. The idea of this thread is to to make life easier and help owners narrow down choices of coilovers.Of course, I did not personally experience every coilover brand/set up out there but this is where I need your help to write pros and cons (personal reviews) of any coilovers you may be running at the moment or have ran before.Ill start with the manufacture descriptions of the coilovers and you can comment below of Pros and cons of the coilovers you would like to review and ill update it to the thread. I may have left out a few brands but I just did a write up on the ones I remember. If I have left some out please inform me and ill be happy to add it to the list. Feel free to review any brand or types you would like that is specifically made for our cars.(96-00 civics) or you may ask for recommendations or questions so feel free. I hope this thread will help a lot of people out there deciding on which coilovers to purchase.
First, Here are some questions and awnsers that are frequently asked.
What does coilover mean?
The term coilover describes a suspension design where a coil spring is placed around the shock absorber. In fact, your Honda probably already has coilovers as stock! Coilover design is used as opposed to leaf springs on trucks, torsion bars (like 1st gen CRX and Integra), and torsion beams (like VW rear axles where the coil spring is placed separately from the shock to allow more interior space). Kits from Ground Control and Skunk2 are often loosely called "coilovers" and is wrong. They are more appropriately called "adjustable spring" kits, and can be used to convert originally non-coilover suspension to coilover suspension (trucks do this all the time). These kits are mainly for those who wish to customize their suspension because of the adjustability that these kits offer.
What spring rates should I get?
This is a completely open question. Quite frankly, if you're blindly asking this question, you probably dont need custom rates and brings us back to the original question, "Should I get coilovers or springs?" and you probably would be better off with one of the many street kits from Eibach, Neuspeed or H&R, or just get the preset vehicle specific kit from GC. The reason I say this is because there is such a wide variety of street kits with varying stiffness and ride heights that will still perform very well on autox and even be enjoyable around the track, and remain a fair margin of safety required for driving on the street. Typically, most adjustable spring kit owners rarely, almost never based on my survey, adjust their ride heights after initially setting it and buying such a kit would be a waste of money. Furthermore, allowing more adjustment simply allows more ways of setting your suspension WRONG for your application.
Having said that, and you are still convinced you require custom spring rates, first define your application. What type of driving will your car MAINLY be doing and NOT just "occasionally"? (i.e. street, autox, open track, road race, rally) Then do your own RESEARCH (key is "search") to other recommended setups. Only YOU can determine what is a good spring rate for your application, and then try it. The good thing about the GC setup is you can swap out springs and try another combo. For many autoxers of FWD Hondas, stiffening up the rear relative to the front reduces some of the understeer inherent in FWD cars and helps rotate the car. 400f/600r (along with an aftermarket rear swaybar) seems popular among Integra drivers but is very stiff for street use and requires high quality shocks. Competitive road racing setups can go up to 450f/900r or 600f/800r, even 1200, but is completely NOT recommended for driving on the street, for comfort and safety and suspension/hardware reliability and lifetime, and is not needed except for competition.
Are coilovers going to make my ride stiff or bouncy?
As mentioned above, the function of an adjustable spring kit is to adjust ride height, which is totally independent of "stiffness". What determines how stiff the suspension is the spring rate. These aftermarket kits more than likely come with significantly larger spring rates. This value along with the performance of the shock damper determine the actual ride quality. Bad or underperforming shocks will make the ride "bouncy". When ordering the GC kit and you do not specifically order custom spring rates, for the integra they give 380f/250r lbs/ft, and civic/CRX 350f/250r lbs/ft. Compare this to an OEM rate of about 250f/150r. I would characterize the change as very stiff and stiffer than most aftermarket street kits, but can still be considered driveable with good shocks, but not to all driver's opinion. Skunk2 will give 450f/336r for the integra and civic/crx. So if you do order an adjustable spring kit, you have the freedom to determine your own spring rates, choose appropriately for your application.
Okay, Now here are some different choices of Coilover system that are available for 96-00 Civics.
Function and Form type 1's
Price range usually from $600-$700
Details
-Adjustable Ride Height
-Dampening pre-set for optimal ride quality
-Adjustable from lower mount, which allows user to retain full shock travel and pre-load adjustments.
-Dual Tube shock design for maximum ride comfort and durability.
-Steel construction of lower mounts for increased durability and minimal flex under load.
Spring Rates F: 10Kg R: 6kg
Personal Review:
Pros: -Great ride quality for daily driving.
-Good quality product for the price
-They Can slam
-A lot of people recommend them.
Cons: -Sometimes I wish I had damper adjustment.
-Other then that no complaints.
Function & Form Type 2's
Price Range Usually From:$850-$1100
Details
-One year warranty.
- 32 levels of dampening adjustments.
- Dampening adjustments made with a knob that "clicks at each level.
- Steel construction of lower mounts for maximum strength.
- Pillow ball mounts.*
-Adjustable ride height from the bottom mount.
- [1] * Special oil lubrication to withstand conditions from -40 degrees C to 200 degrees C
- [2] * Dual tube shock design for maximum ride comfort.
-Double wishbone piston size 43mm.
*Depending on applications.
[1] This allows the user to retain full shock travel, while being able to lower the car significantly.
[2] Allowing the shock to perform in even the most demanding environments.
Spring Rates F: 12Kg R: 8kg
Pros: ?
Cons:?
Blox Full Coilovers
Usual Price Range: Varies on which series you get.
Details
The Tuner Series is designed to meet the needs and demands of daily driving and high performance weekends at the local road course.
Tuner Series: BXSS-00100
Front: 10 kg/mm (559 lbs/in)
Rear: 8 kg/mm (447 lbs/in)
The Competition Series is designed for the rigors of high performance road course driving and racing. Enthusiasts are able to fine tune and maximize their suspension set-up by easily adjusting their vehicle's ride height and corner weights.
Competition Series: BXSS-00101
Front: 12 kg/mm (671 lbs/in)
Rear: 10 kg/mm (559 lbs/in)
The Drag Pro Series is strictly designed for drag racing. Drag racers can properly set-up their suspension, which is often overlooked, by adjusting their vehicle's ride height and corner weights to compensate for front end lift and rear end squatting. Greatly improves 60-ft times and high speed stability.
Drag Pro Series: BXSS-00102
Front: 12 kg/mm (671 lbs/in)
Rear: 18 kg/mm (1,006 lbs/in)
Pros:?
Cons:?
Buddy Club N+ Spec Damper
Usual Price Range:$1100-$1300
Details
1. Ride-Height Adjustable
Vehicle ride height is adjusted independently of spring pre-load. With other alternatives available on the market today, vehicle ride height is adjusted by reducing or increasing the preload on the coil spring. This primitive methold leads to inconsistent spring rates that are dependent upon the vehicle ride height. With any of the Buddy Club suspension components, including the N+ SPEC, vehicle ride height is independent of spring pre-load. This method ensures that the spring rate is always consistent, no matter how high or low your car is. In addition, it ensures that the spring is always properly positioned onto the strut and effectively reduces miscellaneous and unnecessary noise.
2. 15 Level Adjustment
Suspension adjustability is a key element when selecting a top quality coil-over system. The N+ SPEC DAMPERS are designed to accommodate a wide range of driving conditions from regular roads to prepared racing surfaces. Dampening settings ranges from hard (+4kg/mm) to soft (-4kg/mm). These kits will also include urethane isolated upper pillow-ball mount. The urethane isolating ring keeps suspension noise to a minimal while maintaining the precision feel of a solid mounted strut.
3. Mono-Tube type shell case
The shock-body is constructed out of cadmium plated steel and is finished with beautifully anodized precision CNC machined aluminum ends. Urethane bushings are used when applicable to ensure a top quality product.
4. Exclusive Buddy Club Springs
In a complete suspension setup, the coil-spring is a very key element. The coil-springs used on all Buddy Club suspension setups are specially made to exacting specifications by Buddy Club engineers. Each coil spring is manufactured to exacting tolerances to ensure performance in every demanding situation.
5. Beautifully Finished
To ensure that the N+ SPEC Dampers stay looking superb through your years and years of ownership, each precision CNC machined aluminum component is beautifully burgundy anodized and each steel component is cadmium plated for corrosion resistance. Great attention to detail was taken to ensure that you will be completely satisfied with your ownership of Buddy Club components.
6. Prices starting at only $890/set!
You will be hard pressed to find a comparable suspension solution to suit your demanding needs. With Buddy Club, there is no trial and error. Complete coilover kit starts at our low price of $890; with pillow-ball upper mounts start at only $1180
7. Floating racing spring bearing seat
This bearing seat is developed based on data acquired from various competitions and racing experience. It is a brand new design in order to prevent the vibration noise of the spring on the Macpherson systems. It will increase the overall performance of the suspension by decreasing the twisting tension between the spring and the damper.
Pros:?
Cons?
D2 Racing RS Coilover System
Usual Price range: $850-$1400
Details
The D2 Racing RS Coilover System for Honda / Acura vehicles is a 36 way damper and rebound adjustable mono-tube full coilover system. The setup has separate height and preload adjustments allowing for optimal adjustment and allowing full strut travel at all times along with pillow ball upper mounts or top mounts*. Mounts are constructed of 6061 powder coated aluminum. Threads are Teflon coated to prevent rust. Rebuildable and serviceable in the US.
Pros:?
Cons?
Skunk2 Pro Full Coilovers (S,C)
Usual Price range: $700-$1300
Details
Skunk2 Pro C,S series Full Coilovers for the 96-00 Honda Civic are based on over a decade of racing and suspension tuning experience. The advanced technology we have used in numerous road racing and drag racing championships is now being applied to our new line of Pro-Series coilover suspensions.
Skunk2's track and street tested valving offers the perfect balance for the daily drive or for spirited performance driving. Pro-Series coilovers feature shortened shock bodies and shortened shaft strokes so suspension travel can be maintained on lowered vehicles for improved performance and comfort.
With Skunk2 coilovers, enthusiasts can quickly and precisely set ride heights and corner weights to improve the vehicle's handling response, cornering ability, stability, and balance.
Pros:?
Cos:?
Skunk2 Pro S II Full Coilovers
Usual Price Range:$700-$800
Details
Skunk2's completely redesigned, fully adjustable Pro-S II Coilovers for the 1996-2000 Honda Civic have arrived. Similar to Skunk2's industry-leading Pro-C Coilovers, Pro-S II Coilovers now feature double-adjustable ride height and a state-of-the-art mono-tube design. Thanks to threaded shock bodies, Pro-S II Coilovers now offer height adjustments independent of spring preload, which results in ride-height changes as low as three inches without sacrificing shock travel or ride comfort. Quick and precise ride-height adjustments can now be made for dialing in corner balancing as well as for improved handling, responsiveness, and overall balance. Skunk2's track- and street-tested Pro-S II shock valving offers the perfect balance between daily driving and track performance and its all-new, shortened shock bodies and reduced shaft strokes help maintain adequate suspension travel on lowered vehicles for improved performance without sacrificing comfort.
FEATURES:
Mono-Tube Construction
Shortened Shock Body And Stroke
Double-Adjustable Ride Height
One-Piece, Forged Shock Body
Factory-Set, Precision Valving
Forged Upper Mounts (Some Applications)
SAE9254V Racing Springs
High-Quality Shock Oil
Triple Upper And Lower Seals
Oversized Pistons And Shafts
Custom Spring Rates From 8-18kg/mm Available
Pros:?
Cons:?
Tein Super Street Damper
Usual Price Range: $1000-$1250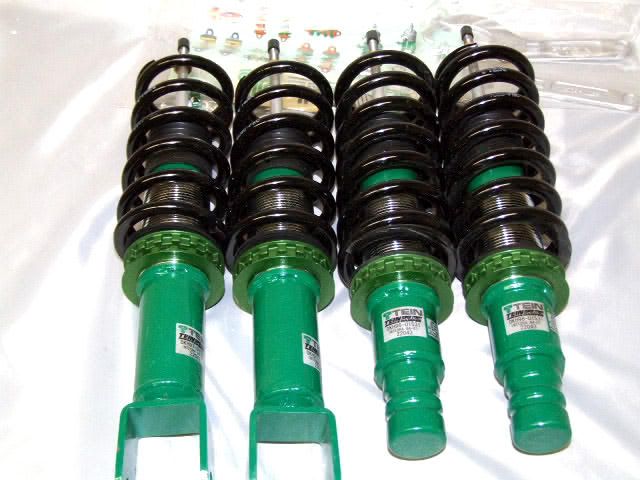 Details
The Tein Super Street Damper for Honda / Acura vehicles was designed for drivers seeking improved handling on the street and at the track. A shortened shell case is utilized to allow the most piston stroke possible, which allows for a better ride at lowered ride heights, and increased grip at the track. Great for daily driving and occasion track use, whether it be at the drag strip, local circuit, or Auto-X course. Includes both ride height and damping force adjustment to allow the driver to dial in the suspension for various surface conditions.
Additional Features:
• Steel Construction
• Twin Tube internal construction
• 16 way adjustable dampers, compression and rebound combined
• Ride Height adjustable via spring seat
• Larger piston diameter for strut type front and rear (22mm)
• Powder coated damper body with Zinc coated threaded section
• 1-year Manufacturers Defect Warranty
• Available for Overhaul
Pros:?
Cons:?
Tein Flex Damper
Usual Price range:$1400-$1600
Details
TEIN has used its years of experience in various motor sports to produce the Tein Flex Damper for Honda / Acura vehicles. The Tein Damper provides the ultimate balance between comfort and performance. Developed for drivers seeking an aggressive coilover that can be used daily, and provide all the adjustments needed for circuit use. The FLEX damper Kit features the latest technology for all drivers who are seeking performance, and adjustability, while not giving up all ride comfort. We have incorporated separate spring perch height, and shell case length adjustment, which allows the suspension to retain more stroke and allows for more suspension tuning. The FLEX damper kit includes pillow ball upper mounts, which increase steering response; 16 levels of damping force adjustment, and is compatible with the EDFC (Electronic Damping Force Controller) for added convenience and adjustability.
Additional Features:
• Steel Construction
• Twin Tube internal construction
• Ride Height adjustable via threaded body and spring seats
• 16 way adjustable dampers, compression and rebound combined
• Pillow ball upper mounts for increased steering feel
• Upper camber adjustment on front for strut type vehicles
• Larger piston diameter for strut type front and rear (22mm)
• EDFC (Electronic Damping Force Controller) compatible
• Powder coated brackets with Teflon coated shock body for heavy duty rust prevention
• 1-year Manufacturers Defect Warranty
Pros:?
Cons:?
BWR SS FULL COILOVER KIT
Usual Price Range:$800-$1000
Details
The New BWR SS Coilover feature's a wide range of height adjustments without changing the spring compression and sacrificing the shock stroke. Traditional Coilovers requires the movement of the spring perch to determine the ride height, causing a reduction in suspension travel and induce coil spring binding. The bottom shock fork / connector is threaded to allow height adjustments to each drivers need without having to shorten the suspension travel by maintaining the original spring perch location. With this function, each driver can lower the center of gravity to achieve better handling, without sacrificing ride quality.
BWR SS TYPE SUSPENSION SPECS:
SS provides height adjustments, damping force not adjustable suspension on the SS version (for dampning force check out the GT series.). Alloy forged aluminum correspondent with anodized finish brackets, spring seats and upper mounts (Some BWR suspension's DO NOT! come with upper mounts.)
WARRANTY:
BWR offers a limited 3yr. warranty on all of our coilovers.
SPRING RATES:
Front 10KG (560lbs)
Rear 6KG (336lbs)
COMES WITH 6061 ALUMINUM UPPER MOUNTS!!
Pros:
- The price is great for a set of full coilovers
-Great for daily driving
Cons:
-Would like better is dampening adjustment
Skunk 2 Shocks W/Ground Control Coilover Sleeve
Usual Price Range: $650- $750 for everything
Details
Ground Controls
- Basically coilover sleeves with custom spring rates for each individuals desire. Very common/coilover sleeve that is on the market today. First, Ground Control has been building suspension kits for over 18 years. With that much experience in engineering suspension systems, you and your vehicle benefit. We dont make universal kits; our parts are designed and machined to fit each individual application - thats over 200 different kits! Second, Ground Control suspension kits use only the highest quality components. Coil over hardware is made of ultra high strength aircraft aluminum. Our unique single nut adjuster allows easy one hand adjustments. Urethane adapting hardware both insulates and secures coil over hardware to the shock absorber. Ground Control uses only the highest quality springs on the market with our coil over hardware. Eibach springs are unsurpassed in quality, engineered for maximum travel and guaranteed for life. Ground Control stocks over 175 different Eibach Springs to create the custom ride you expect.
Skunk 2 shocks
-
Skunk2 Racing Sport Shocks Absorbers for the 96-00 Honda Civic is our new line of high-performance factory replacement shocks that use many of the same technologies and manufacturing processes as some of our more advanced damper systems.
The dual-tube design features a hardened, chromeplated and super finished ground shaft, and precision valving resulting in added durability, reliability, long seal life, and smooth operation.
By offering the Sport Shock, Skunk2 is taking an integrated approach to suspension tuning even at the most basic level. Sport Shocks are specially designed to work in conjunction with Skunk2 Lowering Springs and coilovers.
Sport Shocks are designed with shorter shock bodies and short strokes so they will perform better and have more travel and be more durable at lowered ride heights. When used with Skunk2 Lowering Springs or Coilovers, Sport Shocks offer exceptional control, handling performance, balance, and comfort at a price that can't be beat.
Pros/Cons: "My springs are quite old so have gotten bouncy over time but when I first got them they were a quite stiff combo that allowed me to be low without bottoming out. I'm lower now than I ever was and I still dont bottom out despite the springs being old.
Overall I'd recommend the setup to someone who already has one or the other. If You don't have either piece to the setup I recommend getting some full coilovers like skunk2 or ff1 or Gc/koni w/extended top hats"
Megan Racing EZ-Street Coilover Damper Kit
Usual Price Range:$700-800
Details
The Megan EZ STREET line up is aimed towards the more budget oriented enthusiast to offer the most basic essentials from an after-market coil-over setup, yet makes no compromises for quality and performance.
15 Levels of Adjustable Damper Strength
Aluminum Brackets paired with rubber inserts
Rubber Dust Covers
Adjustable Ride Height
Conservative Spring Rates
Single-Cylinder Design - Mono-Tube
Pros?
Cons?
Progress Competition Coilover Systems
Usual Price Range:$900-$1200
Details
The Progress engineering staff has decades of experience in the design and tuning of performance suspension systems, including CART/Indy Cars, IMSA, SCCA, NASA, and SCORE competitors. This industry leading experience is apparent in the Progress Competition Series Coilover Systems. This system has been refined and perfected over thousands of street and race course miles to be the last suspension you'll ever need!
It's twin-tube design, precise 35mm bore, and electroless nickel plating demonstrate the dedication to quality, and durability. Strut bodies are precisely threaded for adjustable ride heights and corner weight additions, and shorter-than-stock strut designs improve wheel travel optimizing handling characteristics. Progress specifies only certified high-tensile SAE spring wire materials. They are cold wound on modern CNC coiling machines, then stress-relieved, pre-set and shot-peened for maximum durability. The same coilover system you can install in your ride has been used by seven year running SCCA World Challenge / USTCC / NASA Endurance Champion Pete Bovenberg! It's a race proven winner!
Key Features:
Developed specifically for dual purpose autocros, track day, and drag race applications.
Twin-tube design, precise 35mm bore, and electroless nickel plating
Race tested and proven performance
Sport tuned for each specific application
Ride height adjustability
Shorter-than-stock struts for improved wheel travel
Progressive spring designs for superior ride quality
Limited lifetime warranty insures the Progress quality standards
Pros ?
Cons ?
Ksport Kontrol Pro Coilover Damper Kit

Usual Price:$700-$900
Details
The Ksport Kontrol Pro Coilover Damper System is Ksport's basic coilover system. It features a monotube design, 36 levels of adjustable dampening, adjustable spring perch, adjustable body, and pillow-ball mounts where applicable. With 36 levels of dampening adjustment, the Ksport Kontrol Pro Coilover Damper system delivers performance in a variety of driving condition.
All Ksport Coilover Damper systems use a monotube design in which oil and gas are separated within the same cylinder. The monotube design allows finer dampening adjustments and disperses heat better. With Ksport's monotube design, aeration and cavitation are a lot less common, which results in a better ride.
The Ksport Kontrol Pro Coilover Damper System has designed their mounts and most pieces out of 6061 billet aluminum, allowing the kit to be lightweight, durable, and rust resistant. The steel shock body is electroplated with zinc to resist rust and the elements. The valving of each set is matched to the spring rates installed for excellent ride quality and reliability.
Front and rear pillow ball top mounts are included in some car applications as indicated, providing more responsive handling. In addition, camber adjustability is designed right onto most Ksport pillow ball top mounts, allowing you to adjust camber directly on the coilover system itself instead of using a separate camber kit.
Ksport Kontrol Pro Coilover Damper System Feature Summary:
- 36 levels of dampening adjustment
- Monotube high pressure design reduces oil leakage
- Pillow ball top mounts included for some applications
- Camber adjustability is included on pillow ball top mounts
- Made from high quality 6061 aluminum with T6 for increased hardness
- Valving of each set is matched to the springs for ride quality and reliability
- Electroplated body for protection from corrosion and rust
- One year limited warranty through Ksport
References: Ksport Kontrol Pro coilover damper system, Ksport Control Pro coilover damper kit, Ksport damper kit, Ksport kontrol pro coilovers, Ksport Control Pro dampers.
Front
Spring Rate (kg/mm and lbs/in) 10/560
Rear
6/336
Upper Mount Type:Aluminum Top Mount Aluminum Top Mount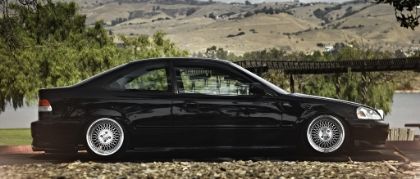 Quality

> Quantity