First event of 2012 for me. Event 3 for the Fresno SCCA chapter. Luckily a buddy of mine was out there and had a HD car cam that he let me put on my car for one of my runs. Was a pretty disappointing run but was pretty fun non the less. My final run was a 47.2 which actually was good enough to take 1st in SMF which was a surprise.
******WARNING!!!!!******
Turn your speakers down. My buddy's camera captures a whole lot of wind noise.
http://youtu.be/pq1wDXISUmc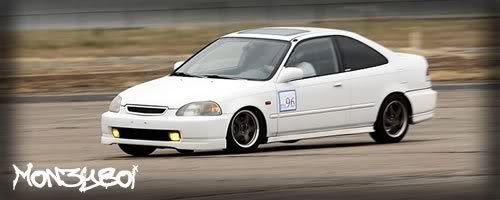 250,000
miles and still going on the original motor...
265,000
290,000
=> motor was going away so swapped in 40k mile d16y8 and now fully CA legal sohc-t